Neteller verification
In order to get fully verified at Neteller and enjoy all if its features, there are a few of steps that the account holder must complete. This is not only to ensure the security of the account but also to give access to higher transaction limits as well as other benefits. In order for EwalletVIP to instantly upgrade the account to Bronze VIP Pro, the account must be fully verified so make sure that all of the steps are completed.
Upload funds to your Neteller account
To start the verification process of your Neteller account, you need to upload funds to your account. This can be done using any available payment method in the "Money in" section of your account, or simply by receiving funds from either another Neteller customer or from a merchant by withdrawing funds. Please note that the available payment methods differ from country to country as all options are not available everywhere.
Verify your ID at Neteller
Once you are have successfully funded your account, the next step of the verification process is to verify your ID. This is done by uploading a copy of photo identification documents such as passport or drivers license. You can either click on the popup banner in your Neteller account or by going to "Account" under "Settings" in the menu bar to the right.
By either pressing the blue banner or by going to the "Account" section, you will be sent to the "Verify your Account"-page where you will be prompted to finish the remaining verification steps for the ID.
To Verify your ID, you will be presented with different options: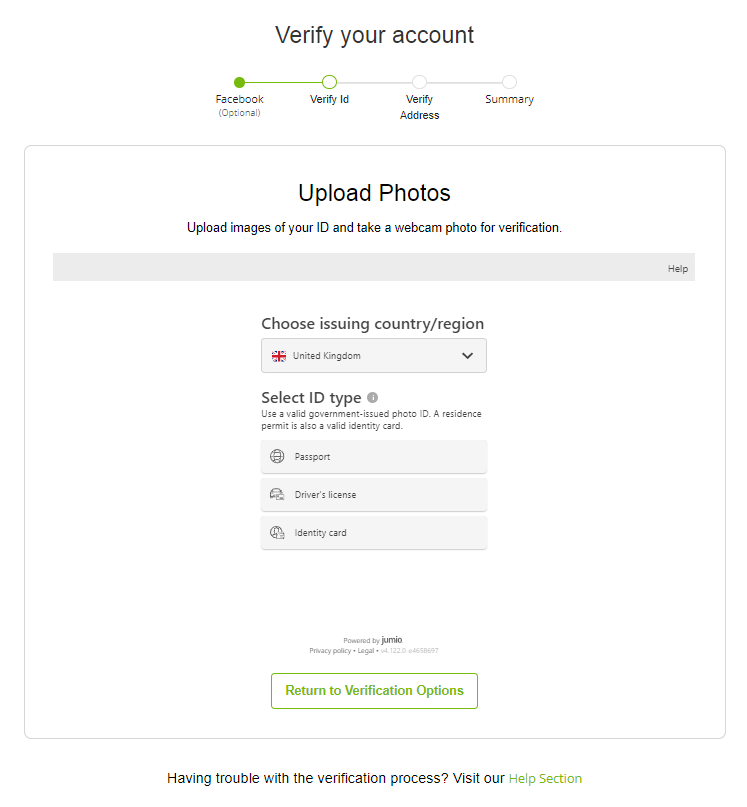 Verify Neteller through Facebook
Parts of the information that Neteller needs from you to successfully verify your account can be attained through your Facebook profile. This is a very quick and easy way of instantly complete the verification of account ownership as well as address verification.
To complete parts of the verification process via Facebook, follow the following steps:
On the Verify Your Account-section, click on the Verify with Facebook link.
This will take you to the login page of Facebook where you are prompted to login to continue.
When logged in to facebook, you will be asked to consent to share information with Neteller by clicking on the Continue button.
The process of verifying through Facebook is done within seconds, and once its finished, you receive a confirmation message and asked to complete the remaining steps to verify your ID.
Please note that the process of verifying your account through Facebook, all details on your Facebook account such as name, date of birth, address & email on the Facebook account needs to match the ones that are registered on your Neteller account.
Download the Neteller Mobile App
The official Neteller app can be downloaded from both the App store as well as Google Play Store. Once downloaded, login to to your Neteller account and verify your ID by taking a photo with the camera of your phone and uploaded it through Netellers secure verification system. Using the Mobile app to verify the account is the fastest option and highly recommended!